Home
Submit your idea in our Request for Makers form and get your own booth! There's still time!

---
Local and regional Makers will show off their creations at the second Ann Arbor Mini Maker Faire, held 10 am to 5 pm Saturday June 5, 2010. The event is free to attend, and is again at the Washtenaw Farm Council Grounds (aka "Saline Fairgrounds"). It is a local version of the major Maker Faires in the Bay area, and, new this year, at the Henry Ford Museum in Detroit (July 31 – August 1) and in New York City.
Expected Exhibits


Learn to solder (free!)


FIRST Robotics Teams


Amateur Radio


DIY Laser Light Show


Make Your Own Juggling Balls and Learn to Juggle


Foam Model Planes


Ferrofluid Magnetoscope


Robots


Medieval Book Production


Nixie Tube Clocks


Demon Barrel Jumper


Ann Arbor District Library's BITDRAGON sculpture


Huge CNC Laser Cutter


RepRap 3D CNC Fabricator


Hacking the Wii Remote


Using Brainwaves for Control


Admission, parking, and all activities are free!
The Faire is open to the public from 10 AM to 5 PM Saturday June 5, 2010.

Washtenaw Farm Council Fairgrounds
(a.k.a. Saline Fairgrounds)
5055 Ann Arbor Saline Road
Ann Arbor, MI 48103
For more information, email us at: tendrid@gmail.com

Posters are now available for download. Please print and post!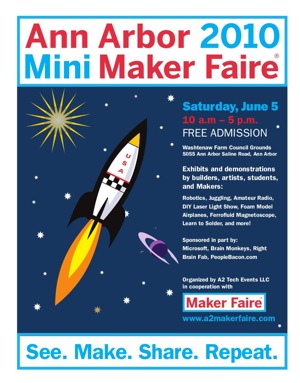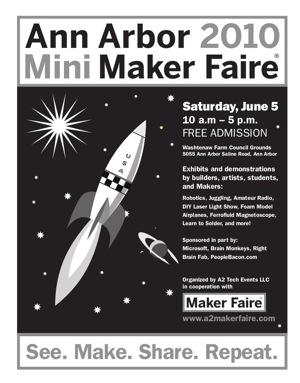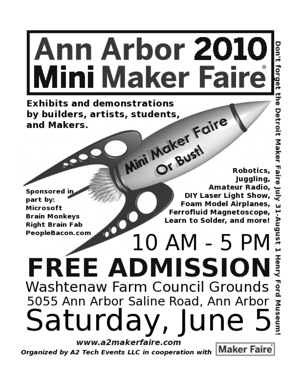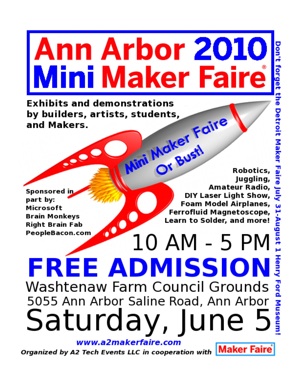 3/4/2010: Call for Makers! See the "Maker" tab above.

Don't forget the Detroit Maker Faire on July 31 - August 1. It's a major Maker Faire at the Henry Ford Museum.


The Ann Arbor Mini Maker Faire is produced in cooperation with Maker Faire.